The Department of Orthopaedics at Starcare Hospital provides world-class orthopaedic services with facilities at par with international standards, headed by a team of highly experienced surgeons. Our specialists diagnose and treat people suffering from musculoskeletal system illnesses. Orthopaedic Doctors at our hospital are highly experienced in treating musculoskeletal trauma, spine disorders, sports injuries and joint pains. We have the best team of specialists to treat common disorders such as Arthritis, Fibromyalgia, Foot pain problems, Fractures, Hip, Hand, knee, neck and shoulder pains, Osteoporosis, and Scoliosis. In addition, efficient physiotherapists & pain management experts work towards rehabilitating the patient leading to a better quality of life. Our doctors, Prof. Dr Sreejith, Senior Consultant, Dr Nithin and Dr Nihal Suresh, are trained to provide the best treatment for people suffering from mild to severe orthopaedic problems.
Fibromyalgia is a condition where one can experience pain in the whole body, especially in the mornings, and difficulty moving and working. It's widespread muscle pain and tenderness. The most common symptoms are that people may experience abdominal, back or neck pain, fatigue, tiredness, or malaise. There's joint pain, muscle stiffness, headaches, poor sleep, anxiety, and depression. At Starcare Hospital, our Oortho Specialists follow a multi-disciplinary pain management system to prevent further progression of the condition. Pain can come from any physical activity, an injury or after surgery. Our Ortho Specialists prescribe nonsteroidal anti-inflammatory drugs, nerve pain medication and muscle relaxants.
Arthritis is an inflammation in one or more joints, causing pain and stiffness that can worsen with age. A weak immune system or a metabolic condition may cause it. Symptoms like pain and, swelling, stiffness in joints are seen. Our Orthopedic Doctors diagnose people suffering from arthritis with MRI scans and ultrasounds to help identify Rheumatoid Arthritis in the early stages. Treatments include medicines like nonsteroidal anti-inflammatory drugs, joint injections, weight reduction, exercise, and surgery. Our Orthopedist, Dr Sreejith, at Starcare Hospital, Calicut, suggests personalized treatment options resulting in efficacy.
Osteoporosis is a condition in which bones become weak, and many people won't have any symptoms until they have a bone fracture. Some may get this due to calcium deficiency which leads to lower back pain, hip pain and loss of height.
Scoliosis is a sideways curvature of the spine. People might have a curved posture and difficulty sitting, standing and walking. Humpbacks are a sign of Scoliosis. Our doctors recommend the treatment option with medications such as Vitamin and Calcium supplements, following a healthy diet and exercises to strengthen the bones, which aids in reducing ortho problems due to Osteoporosis, Scoliosis, and Humpbacks. Ortho surgery is recommended when medications do not result in effective recovery.
Sports injuries commonly occur during sports or exercises, primarily affecting the shoulder, ankle, and knees. It causes tennis elbow, Sciatica, sprains, dislocations and Fracture. It is mainly due to poor training methods that lead to muscle tendons and ligament weakness. Our Ortho Specialists recommend treatment starting with the diagnosis of sports injury, performed using X-ray, CT scan, and MRI scan to identify the type of injury and its treatment for the betterment of ortho health condition. People with ortho problems are instructed to do balance exercises, core stabilization and strengthening for quicker recovery. Our specialists prescribe medications such as anti-inflammatory drugs and injections to reduce swelling. Depending on the medicine's efficacy and the progression of ortho health, our doctors recommend surgeries for complete recovery. Our hospital has world-class facilities to perform Ortho Surgeries for correcting fractures.
Our Orthopedist, Dr Sreejith, has high experience performing total joint replacement surgeries at our hospital in Calicut. The surgical procedure involves the replacement of the damaged joint with a metal, plastic or ceramic device called a prosthesis. The medical device functions like a typical, healthy joint. We have the best Orthopedic Surgeon, Dr Sreejith and his team to perform joint replacement surgery with a higher success rate. Our doctors ensure the prosthesis implanted during the surgery is high quality, guaranteeing a one-time procedure. We, Starcare Hospital, have the best healthcare infrastructure and Ortho Surgeons to perform joint replacement surgery on the knee, hip, and shoulders. The procedure is safe and effective in relieving pain and enabling patients to continue their routine.
Orthopedists at our Starcare Hospital recommends Total Knee Replacement Surgery to patients when their knees are entirely deteriorated due to arthritis or injuries. Our Ortho Surgeon performs the surgery involving replacing the articular surfaces of the knee joint with smooth metal and highly cross-linked polyethene plastic. Knee Replacement Surgery improves a patient's quality of life by reducing pain and increasing body function. With our highly experienced orthopaedic surgeons, our specialists perform a safe surgical procedure that aids in regaining mobility. Most patients return to normal activities 3-6 weeks after the surgery. The surgery usually takes 1-2 hours duration. Our ortho doctors prescribe nonsteroidal anti-inflammatory drugs for a few weeks.
At Starcare Hospital, our Ortho Surgeons are trained to perform Total Hip Replacement Surgery, which involves replacing a damaged part of the hip joint with new, artificial parts made of metal, ceramic and hard plastic. Hip Replacement Surgery reduces body pain and improves the functioning of the body part without resulting in elevated strain. In most cases, Arthritis damage is the common cause of hip replacement. Most people recover fully within 3 months after the surgery. Daily activity and exercise can help to regain joint and muscle function.
At Starcare Hospitals, we have the facility to perform Shoulder Replacement Surgery which involves the replacement of deteriorated arthritis or fractured shoulder with a new implant. Every individual can be grouped to identify similar people with identical shoulders. Our ortho surgeons do a complete examination to choose the best-fit shoulder implant that regulates body function and total reduction of immobility. The surgery usually takes 1-2 hours. It generally takes 8 weeks to recover fully after the surgery. Physical therapy is given soon after the surgery, and the patient's mobility is improved throughout the period.
Prof. Dr. SREEJITH T.G
Dr. Mohammed Shafeekh A
Dr. Anwar Marthya Hamid
Dr. Abdul Gafoor P.M
Dr. Nidhin Sarath U
Dr. Nihal Suresh
Prof. Dr. SREEJITH T.G
Prof. Dr. SREEJITH T.G
MBBS, MS (Ortho), D (Ortho)
Sr. Consultant Orthopaedic Surgeon
Consult a Doctor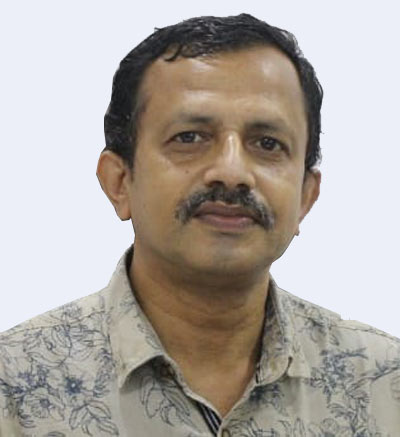 OP Timings:MON to SAT (9 AM to 1 PM), FRI (9AM to 11 AM)
Dr. Mohammed Shafeekh A
Dr. Mohammed Shafeekh A
MBBS, MS(Ortho), Fellowship in Arthroplasty
Sr. Consultant Orthopaedic Surgeon
Consult a Doctor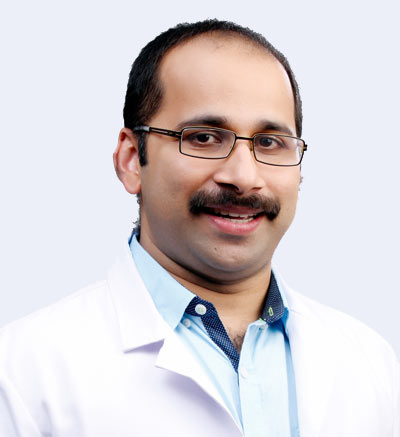 OP Consultation
TUE & FRI (2 PM to 4.30 PM)
Dr. Muhammed Shafeekh, consultant orthopaedic surgeon has more than 4 years of
experience in the field of Orthopaedics. His area of interest are joint replacement surgeries
and management of complex trauma. He has worked as orthopaedic surgeon in Medical
Trust Hospital, Ernakulam and has done fellowship in Arthroplasty from Sunshine Bone and
Joint Institute, Hyderabad.
Qualifications
MS Orthopaedics: Manipal Academy of Higher Education, Manipal.

MBBS: Academy of Medical Sciences, Pariyaram, Kannur.

Fellowship in Arthroplasty: Sunshine Bone and Joint institute, Hyderabad.


Accomplishments
Article on the Effect of Low Intensity Ultrasound on Fracture Healing in 2015
Done study comparing Periarticular Injection and Ultrasound Guided Adductor Canal
Block for pain management in Total Knee Arthroplasty-2015
Presented a case report- Total Hip Arthroplasty in a Disproportionate Dwarf in COS-2014
Hands on training in Arthroplasty by DePuy-Synthes- 2015
Attended various National and International conferences including IOACON-2014,
KOACON-2009, Ranawat Orthopaedic Conference-2015,2016
Completed AO Trauma course in 2013
Read More
Dr. Anwar Marthya Hamid
Dr. Anwar Marthya Hamid
MBBS, MS (Ortho), D (Ortho), MRCS Ed, FRCS
Sr. Consultant Orthopaedic Surgeon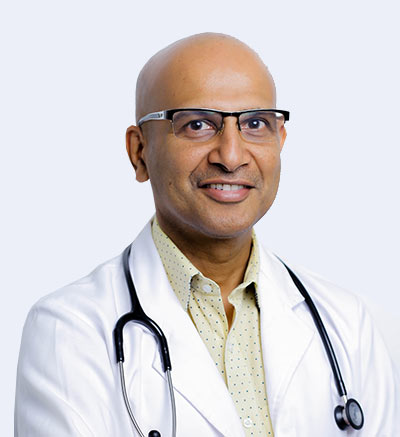 OP Consultation
ON CALL
Read More
Dr. Abdul Gafoor P.M
Dr. Abdul Gafoor P.M
MBBS, DNB, MNAMS, MRCS (UK), Fellow Arthoscopy, Sports Injuries, Foot & Ankle (Duke USA)
Consultant Orthopaedic Surgeon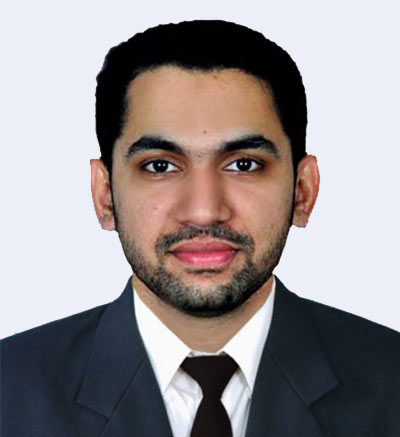 OP Timing
MON & WED (ON CALL)
Dr. Nidhin Sarath U
OP Timings: 09:00 AM to 5:00 PM (MON to SAT)
Dr. Nihal Suresh
Dr. Nihal Suresh
MBBS, MS Orthopaedics and DNB Orthopaedics
Specialist- Orthopaedics
Consult a Doctor OP Consultation
Timing: Monday to Saturday (9.00 am to 06.00pm)