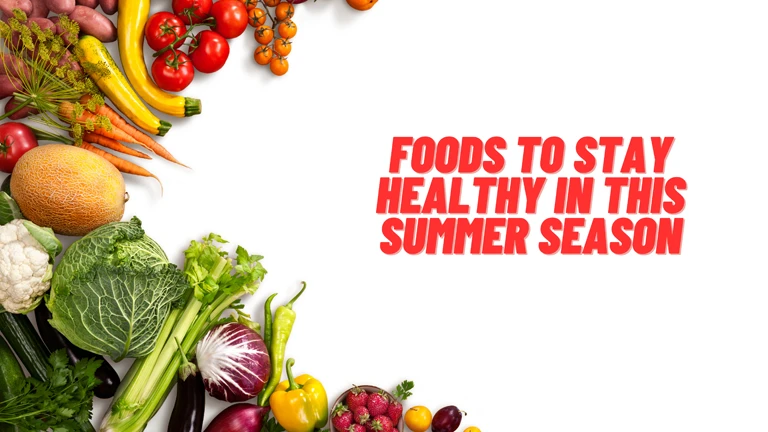 Foods to stay healthy in this Summer Season
Food underlies the basis for your good health condition. The way you consume has a reflection on your health. Seasonal changes are something that you must keep an eye on! Yes! You experience changes in your health. Summer days are the days you start to worry about your stamina. Your energy level start to drain more quickly than ever before.

In the summer season, the days are longer, and the nights are shorter. So, you got no other go. The foods you consume tell how good you are.

Do you think that tackling summer days are hard? If yes, you are practising the wrong diet. You have to accept it.

As seasonal changes are normal and uncontrollable, so does your food habit should be. You have to make changes in your food diet.

It is very simple! All you have to do is just make a switch on the foods you consume.


Drink Water
It is very common to experience dehydration and digestive problems during summer. Staying hydrated is one of the best ways to tackle the heatwaves.
Drinking plenty of water can help you stay hydrated. Keeping track of the water level you consume may be difficult. You can start using a Litre Bottle to know the amount of water you intake.
In summer, you're recommended to intake 3 to 4 litres of water daily.
Your ideology of "ignoring to consume water until 8 pm and trying to achieve daily water intake for the next few hours" is entirely wrong. Your inappropriate drinking water efforts will not take you to relish the fruitful results of staying hydrated.
With a day full of gadget usage, there is something you make the healthiest usage of it. Setting up a water reminder for one or half an hour can help you accomplish your water goal.
It is very easy. What now? Buy a one-litre bottle, set a reminder, and drink water.
In addition to water consumption, you can make other food choices to keep track of your good health.
Fruits, Yes, fruits!
Do you like fruits? To be specific, do you like watermelons? Why not! The reddish-sweet watery fruit will be your favourite of all time. Consuming a medium slice of watermelon will be your health saver. Daily consumption helps you reduce body heat. Since it is a fruit, you can consume it as juice or as a salad.
Mango, muskmelon, blackberries and grapes are the fruits you can prefer during summer.
Also, the palmyra palm fruit is a fruit you can try during summer. And it is only available during the summer months. This fruit keeps you fighting the heatwaves and aids you in keeping food healthy.
Co Co Coconut
Tender water is a natural drink that aids you in tackling heatstroke. Coconut water reduces your body heat to the maximum extent.
Meanwhile, it keeps you stay hydrated. Tender water helps reduce the suffering from heat balls and mouth ulcers, which are quite common experiences during summer.
So, make a daily plan to drink tender water. To some people, they might get cold. It is way better to drink coconut water during the daylight hours.
Lemonade
When heat waves strike, you prefer cold drinks to satisfy your thirst cravings. Lemonade is there to fulfil your cold thirstiness. Consuming lemon juice or lime water blended with sugar and salt helps you stay active.
Lemon juice is an energy drink, and you can consume it whenever you wish to have it. Other than opting for a preservative drink, preferring lemon juice will be the healthiest choice.
If you're a working professional and have no choice but to prepare lemon juice at your workplace, you can slice the lemons, add them to the water bottle, fill it with water, and consume it.
Also, you can replenish the water level until you feel the taste of lemon.
Cucumber
Some fruits and vegetables are available at specific seasons. Likely said, Cucumber is one of the kinds tagged under seasonal foods.
Like watermelon, Cucumber is a rich source of watery foods. A cucumber a day aids you in keeping track of your good health condition with hydration.
It can be consumed raw, and it forms the deadliest combo when it is preferred in preparing summer food salad. Most Indians prefer to eat Cucumber topped with salt and chilli powder.
Conclusion
For every problem, there is a natural remedy you can rely on. When summer hits you with heat waves, give a payback with summer foods to fight dehydration. Summer is the season to enjoy tasting seasonal fruits and foods. Having a summer season food diet aids in staying away from sicknesses. Frame a daily plan and consume foods that help you survive this summer.